Walk for Hope 2018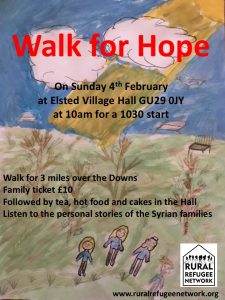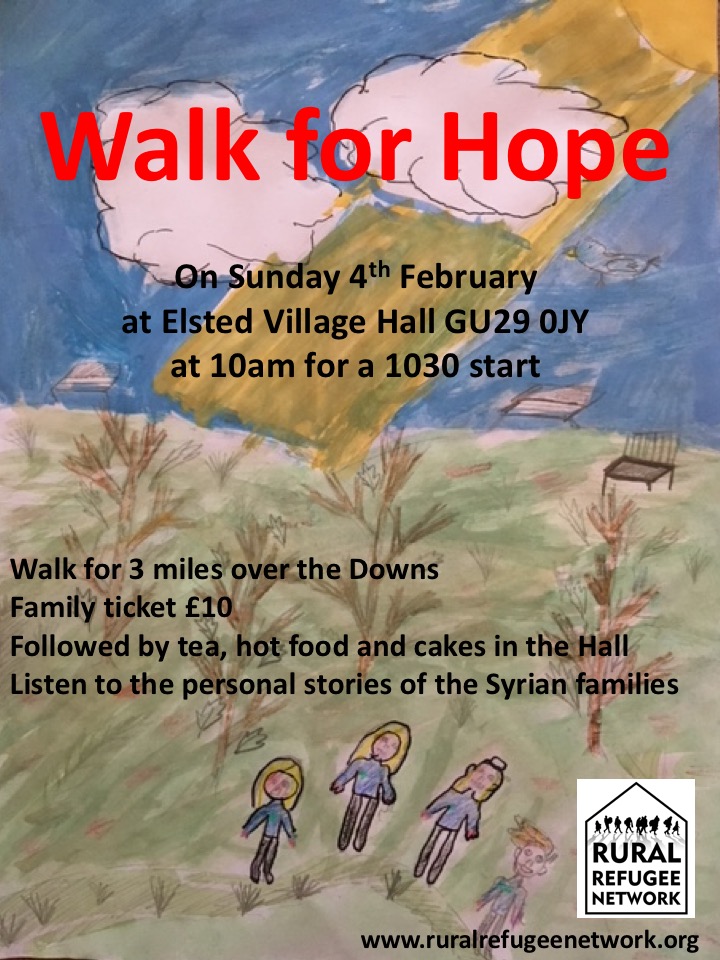 The Rural Refugee Network held its third annual 'Walk Of Hope' last Sunday, 4th February, with glorious sunshine greeting the many walkers who turned up for the event.  The three mile walk followed the same route as last year, through Elsted village followed by the gentle climb to Elsted Hanger, along South Downs Way, down through Treyford before returning to Elsted Village Hall.  This year we were delighted to be joined by so many of our refugee families and their children, who along with the dogs, kept spirits high with their delight in the many muddy puddles we met along the way.
Back in the hall, following tea, coffee, Lamb, Vegetarian hot dogs and a plethora of homemade cakes from volunteers and our Syrian families, our founder, Julia Thistleton-Smith, expressed her gratitude to all those who turned out for the walk.  Two of our younger refugees then spoke of the difficulties they had endured in Syria and on their journey to safety in Britain.  Most touching to hear was that they now have such great hope for the future.  Taking full advantage of the educational opportunities available to them they are driven to achieve success so that one day they can return home and make a difference in their own country.
Overall, the event raised £1200.  The RRN would like to thank all those who helped make it such a success, and all of those who turned up on the day.
Walk for Hope 2017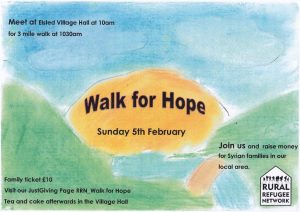 The Walk of Hope is a fundraising event that involves the local community.    People from all walks of life and all ages come together for a 3 mile walk in aid of the RRN.
Walk for Hope 2016