Welcome to a bumper edition of our Newsletter which is packed with all the various fundraising and resettlement activities that have been keeping everyone so busy over the past couple of months – from the hugely successful art show, to the campaign to find foster carers for unaccompanied refugee minors to English classes and community events for our recently arrived families.
It's amazing to think that in under a year we've gone from seeing pictures on the news, feeling helpless and wanting to do something to having such a hive of direct action right on our doorstep – a true example of people's capacity to pull together and reach out effectively when our passion is strong enough.
And we still need lots more help, there are so many different ways to become involved – read on for appeals from the fundraising, fostering and education teams for more volunteers of all types – if you have any time to give them please do get in touch, or pass on our details to anyone you know who may be interested in our work.
With any offers of help or enquiries please contact us at hello@ruralrefugeenetwork.org.uk or via our Facebook Group (Rural Refugee Network) in the first instance, then we can direct you to the appropriate team.
Sarah Ali-Prosser, Editor
RRN Chairs Update
Jo Cox the MP for Batley and Spen who died in June said "We have more in common than that which divides us." Since our last Newsletter it's been hard to keep this front of mind when faced with the challenges of the referendum and further horrendous terrorist attacks around the world. We're pleased to say that last week's RRN Summer BBQ was a brilliant reminder of the truth of Jo's words.
Thanks to the significant efforts of Clare Masson, Lyes and Sally Smail, and host Judith Earnshaw, we had a wonderful day welcoming 6 Syrian families currently in Hampshire to Thedden Grange. It was a chance to officially welcome the new arrivals, thank the very many people who have helped them settle in, and of course for everyone to meet and spend time together. It was an extraordinarily moving day and so good to see so many happy people there. A huge thank you to everyone who helped, attended, and made this a magical day. We hope you enjoy the photographs.
We've started work on creating models and templates to help other communities who are setting up to welcome refugees. We'll be posting these on our Facebook Group over the summer – all feedback is very welcome – it will help us improve and make them as useful as possible. We were lucky to be able to talk about these, along with our journey so far, at the Citizens UK training session at Amnesty International recently. This training was impressive and we have secured Bekele and George from Citizens UK to come down to Petersfield to run a day's training with us on Saturday October 15th. The training will be on Community Organising and Community Leadership and we can't recommend it highly enough. This training is genuinely inspiring and life changing. If you can give up a Saturday (10-4pm in a venue tbc near the train station) please join us. We also have some more training from the British Red Cross in September – again please contact us if you would like to attend – everyone who attended the last session found it very helpful.
We are also now stepping up our search for new houses for Syrian families, as well as for supported living accommodation and foster carers. Please let us know if you might be able to help.
Lastly our new website is now live – www.ruralrefugeenetwork.org – a big thank you to Jenny Lennon and Greg Copeland for doing fantastic work on this as volunteers – it's hugely appreciated.
Best wishes
Julia Thistleton and Kaaren Wallace
A thank you to Michael Oakley
Our inspiring and much loved Trustee Michael Oakley has recently stepped down as an RRN Trustee. Michael has done an enormous amount of work securing one of our properties and joined us from his own Liss refugee group (which then merged with RRN) to use his invaluable knowledge and experience to help us set up RRN as a charity. Having successfully achieved this he now wants to focus on his very many other charitable commitments including the Rosemary Foundation which pre-dated his work with RRN. Michael has very kindly offered to continue to help us in one or two areas and I hope when you next see him you'll join us in thanking him for the impressive work he's done for RRN – we would not be where we are without his support and guidance.
Thank you very much Michael.
33 ART EXHIBITION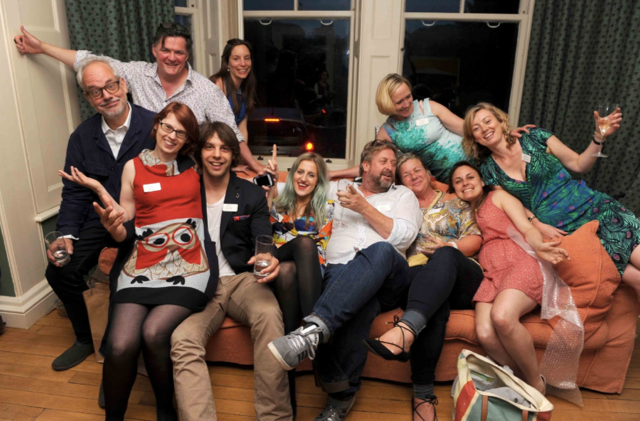 After a huge amount of work from the team making it happen, the highly-anticipated Rural Refugee Network 33 Art Sale took place at Bordean House on Wednesday 15th June. It was a wonderful evening – with 33 artists, London-based and local, both amateur and internationally recognised – displaying and selling their work. 170 people attended, the artists talked about their work, art was sold and an incredible £10,000 was raised for RRN which will go directly towards helping families. Thank you so much to everyone involved, especially Emma Thistleton and Antonia Kimbell who conceptualized the show, sought the artists and set up – and the RRN team led by Sarah Green, Frances Horgan and Lucy Aspinall who promoted the event, secured local artists and helped it run smoothly on the night. A great achievement and one we hope to repeat next year.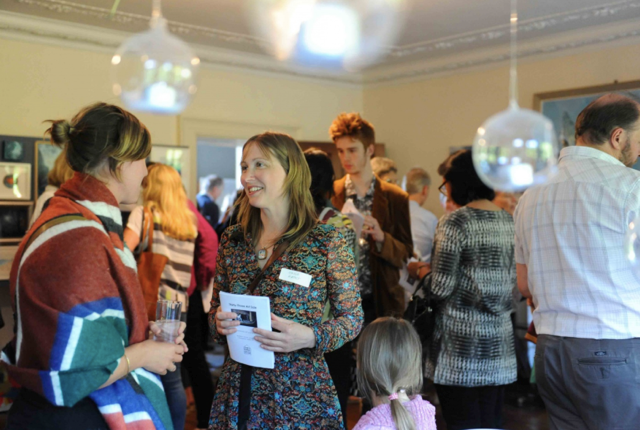 ART EXHIBITION
Volunteer(s) required
Motivated with good communication skills Our fundraising team is hoping to find one or two additional members of their team to take over two important volunteer roles:
Grants and sponsorship lead
This role would be responsible for researching suitable grants and then writing applications according to a standard format as agreed by the Trustees. You would need good writing and organisational skills and be able to give enough time to submit approximately one grant application per month. You would be supported with every application and the final edit and sign off would be via the Trustees.
Business liaison lead
The goal of this role is to source gifts in kind from appropriate businesses. For example clothing vouchers, laptop / computing vouchers, sports club memberships, furniture vouchers, etc.
This person would need to be able to give a small amount of time each month to develop relationships with relevant businesses.Both roles (which could be taken on by 1 or more people) would attend our fundraising meetings – one every two months and feed into the general fundraising strategy.The fundraising team currently consists of a friendly bunch of people, all with other work/life commitments. We look forward to welcoming some new members to join our enthusiastic team.
Unaccompanied children initiative
Our main goal as a group at the moment is to help recruit potential foster carers, supported lodgings hosts and buddies.
Hosts Needed
There is a shortage of Foster Carers and Supported Lodgings Hosts in the UK. Please read the following and share with anyone who might consider hosting a refugee or asylum seeker in the UK.
In Hampshire, the council has confirmed that they plan to support 163 Unaccompanied Refugee Minors starting this month as part of the National Transfer scheme from Kent where there is a disproportionate number of Unaccompanied Minors being registered. Counties across the UK are being asked to support the scheme as well as accepting children from the Syrian Vulnerable Persons Resettlement Scheme and those from northern European refugee camps.
There is a shortage of hosts and our council is now saying that they suspect 90% of these children to be 16-18 years old and eligible for SUPPORTED LODGINGS. Supported lodgings are a service which can allow an individual to live in a family home, experiencing domestic life in a shared and supportive environment. The young person has their own room and shares the kitchen and bathroom facilities with the family or householder – or 'host'. Similar to Foster carers, hosts can be families, couples or single people.
The accommodation is a furnished bedroom in a domestic house, with use of WC, bathing, cooking and laundry facilities as a member of the household. The householder/host is resident full time in the property but pursues their own lifestyle (including daily routine, absence at work, holidays and weekends away). They provide a home-like environment and domestic routine consistent with the young person engaging in education, training or work, including the provision of some meals. They establish an appropriate and consistent personal relationship with the young person, including non-intrusive practical help and advice.
The service provider (an LA or independent organisation e.g. Barnardos) undertakes recruitment, scrutiny and approval of hosts' accommodation and suitability to work with vulnerable young people in an unsupervised home environment. They typically provide general skills development, training and experience-sharing events for host families.
Hosts have a tenancy agreement and the council pays £75 per week plus £20 for food. These figures may vary from county to county.
Many of the children coming into care in Kent are vulnerable and will need a really caring and supportive household. Please consider being a host and spread the word.
For more details about Foster Caring, please contact:
www.hants.gov.uk/adoptionandfostering Tel: 0300 5551384
For details of Supported Lodgings, please contact:
If you are interested in hosting a child, whether for emergency care (weekend, week, etc.) or longer term, please contact Debbie Moreton email: debbie.moreton@stepbystep.org.uk Tel: 07854 547570
Assessment can take a few months for supported lodgings and up to 8 months for fostering and the children need homes now.
Please do feel free to contact us if you'd like to know more about what our group is doing and also if you are considering being a host so we can support you as needed.