Welcome to the RRN Newsletter, with reports on some fantastic activities undertaken over the summer as well as information about our ongoing efforts with which we welcome your involvement. We open with news about an important forthcoming event for all volunteers…
On Saturday, 15th October between 10 and 4pm at the Petersfield United Reform Church, Petersfield we have Citizens UK, a civil society charity, coming down from London to deliver their training on Community Organisation. This is the foundation RRN was built on and a technique Barack Obama used in his early days as he stepped into politics. It is an invaluable training for any person interested in what is happening globally and what we, as individuals can do to really make a difference locally, nationally and internationally. We will be covering everything from negotiation skills to leadership, strategy and action. This is a real opportunity to develop some valuable life skills. This training is for EVERYONE and great fun too. If you or someone you know would like to come along please email Donna at enquiries@ruralrefugeenetwork.org.uk.
NB: This is different to the last training Citizens UK delivered and will be led by George and Bekele.
Sarah Ali-Prosser, Editor
RRN Chairs Update
It's hard not to think of these as dark times. With the ceasefire in Syria utterly broken, unaccompanied minors still living in horrendous condition in European camps (including those who have a legal right to be in the UK) and now the demolition of the Calais camp scheduled for October 31st, it's hard to see much light.
Thirty Syrians are safe thanks to the hard work of RRN. But there is much more to do. The unaccompanied minors team, headed up by Emily Mott hosted 75 people to the Townhouse last week. Many of these were interested in learning more about providing foster care and supported lodging or to help this team welcome unaccompanied minors to the region. In addition our housing team is gearing up after a break and over the next month will have meetings with East Hampshire, Havant, Andover and Romsey District Councils to see if we can help them find additional private landlords and rescue more Syrians directly from the camps in the region.
Our families continue to settle in well. The Summer School RRN helped provide for 11 students was enjoyed by all – and we've included a report from one of the children on her experience. The UK Government are finally providing ESOL lessons for most of the families and we are currently looking at how the Education Team continues to provide support and help with integration in the forthcoming months. One of the key aims of our charity is 'building independence' for our new arrivals and we're starting to look at how we can develop skills training and employability, for those families that need and want this type of support.
With the Syrian crisis still so utterly turbulent we really need your continued involvement. On Saturday October 15th from 10am to 4pm we have Community Leaders George Gabriel and Bekele Woyecha coming to Petersfield to do some training and help us focus on the future of RRN. I know it's hard to give up a Saturday but this is an incredibly important meeting at a critical time and it will be an inspirational session. If you genuinely want to help make a difference in the world this is a great place to start. We have a limited number of spaces left but are keen to welcome both new and old volunteers to that day – please do let us know by return email if you'd like a space on that day.
A big thank you to everyone for all your continued hard work and support.
Best wishes
Julia Thistleton and Kaaren Wallace
Thank you to Julia Paget
A huge thank you to Julia Paget, one of our founder team members who has resigned her Trustee position to focus on her career and young sons. Julia always promised to give RRN a year as a Trustee and despite our best efforts to talk her into staying longer, she is sticking to her guns! Julia's passion and utter refusal to sit back and do nothing in the face of the Syrian crisis helped stoke all of our drive and passion and helped create the RRN from the ground up. Working with Camilla and her team she created and led the Sponsored Walk and helped make it a roaring success – literally going door to door in Elsted to ensure the best attendance and awareness. Julia helped RRN form it's goals and values, she set up the Just Giving site and drive behind this, created some really strong professional marketing materials as well as helped shape RRN's strategic direction – amongst many other roles. Whilst she'll be sadly missed from the Board, she'll be staying on the wider RRN team and helping out with next year's walk.
Julia – you're a legend in your own lifetime – thank you.
REPORT FROM THE ENGLISH SUMMER SCHOOL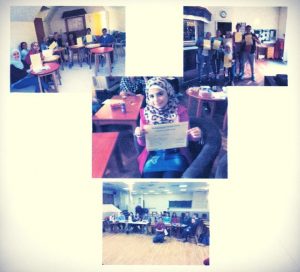 The children enjoyed meeting people from different nationalities who were also learning English and getting to know about their lives and cultures. It made them feel less different and they fitted into the group in a way they found more difficult to achieve at school. Much of the learning was done through games and in group sessions and this made the learning fun.
They enjoyed the trips, especially the one to Chichester cathedral and loved how old the building was. Also wandering around Petersfield and getting to know the town. They all got a certificate at the end which said which level they had achieved – they felt they had learnt a lot and were very proud of what they had managed.
"My name is Hanin. I am from Syria. I'm so happy in the UK. When I came to the UK I was not speaking English and I was having difficulty talking with people in the language. When I entered the school of languages in the summer I meet new people who spoke different languages. I learned the language through playing games. I love you more because learning the language is important in life and especially wherever I go in the world I can speak with people from different languages in English. I want to give thanks to the people who help us to learn things in our new life. I love you and thanks for everyone's help for the Syrian people. Thanks, love Hanin"
"We enjoyed the summer school and the amazing activities. It was good meeting and being with the other young people. They were long days but with lots of fun things to do. We learnt lots of English which has helped us a lot. " Mannar
"The activities were the best bit; Learning English whilst having fun!! My favourite day out was when we went to the lake and using the boats Which we had to ask for in English. We learnt English which has helped us in school." Hanin
Resettlement Team Update
Volunteers for Donation Sorting in August
A huge thank you to Stella, Lyn and Marion, Anne and Chris, Kaaren and not forgetting Mark for producing a fabulous lunch. You guys were stars helping me sort out all the donated items into complete house piles, so when any new properties come on board we, on the resettlement team will have items all packed and ready to furnish them. You all helped massively and now the attic at Bordean Manor looks ordered!
Red Cross Training held on Tuesday 20th September
Thank you Nadia and Shamila for delivering this excellent training session the other week. Having attended the previous one in February, I found it even more helpful. I could understand and see how important the methodology and awareness is so invaluable, when working with RRN. The training also makes you more aware of how you behave and interact with others, and to recognise signs of others who may be in vulnerable situations and to be able to assess and speak out in the correct way. if we all took more responsibility and had more empathy for other human beings than perhaps the world would be better place.
Next Red Cross Training is planned for Wednesday 9th November and details will be sent out by Donna in the next few days, this is covering Pediatric Everyday First Aid – totally invaluable so look out and save the date.
Also, thank you to Donna too for all the organising and management of events for RRN, in order for RRN to go from strength to strength we need to support these events and that in turn feeds the enthusiasm and keeps interest and awareness foremost in people's minds.
Clare Masson
New "Guide to Welcoming Syrian Refugees"
I am currently working with Citizen's UK, Ben Fraser from the Kensington and Chelsea Refugees Welcome Team and other groups like ours across the UK to put together a "Guide to Welcoming Syrian Refugees." The aim is to have a short published guide which signposts to a large selection of materials contained online which will be of use to new groups like ours. The idea is to share best practice across the UK and to help save new and existing groups time and effort, as less time should hopefully be needed re-creating wheels which already exist elsewhere. The current plan is to launch this pack sometime in December and we already have some media interest in the launch date – we'll keep you updated.
Julia Thistleton-Smith
Fundraising Team Update
The Fundraising Team has been having a short break following the success of the Art Show which raised £10,000 for the charity in June. We did have a glorious moment over the Summer though where Katie Holmes spoke at the annual Harting Tent Service – her report is in the Newsletter and this event raised £1,300 in a day.
At the moment the team is focussing on developing some materials for the use of all teams as well as sorting out dates and times for the two big events of next year – the return of both our Sponsored walk and the 33Art Show. We'll announce the date of the walk shortly but the 33Art Show will take place at Bordean house on Thursday 18th May so please mark your diaries now. We're also working on developing some smaller fact sheets which will detail ideas of how individuals and other supporters not in the fundraising team can set up and run smaller events to raise money for the charity, details to follow soon.
A separate Grants Team has now been set up as a new group from the Fundraising Team and Camilla Bell will head this up with Sarah Green leading the Fundraising Team. In the Grants Team, we have two new volunteers Vicky and Kay who have kindly agreed to fill in the application forms for grants as and when new project require funding.
Finally, could we just ask anyone who has children at school age to please encourage their children's schools to support RRN and become one of their school's charities.
Unaccompanied Children
We were thrilled to have a full house at our first recruitment session for foster carers and supported lodgings hosts last week at The Townhouse, Petersfield. Thank you to all members of RRN and friends who came out to support the children! Lee Moden from Hampshire County Children's Services talked about the fostering process from assessment to approval and the challenge of looking after vulnerable children. Sarah Abrahams from Step by Step discussed supported lodgings for the older children. There were quite a few people in the audience who were unable to commit to full time care but are interested in providing respite care and we briefly touched on the idea of starting a mentoring program with RRN members for the children once they are settled. There was much discussion about the unique challenges of caring for Unaccompanied Children. The majority will be older boys 16-17 years. Many will have been trafficked and most will have suffered trauma. There was concern about the provision of proper support especially when our mental and health services are underfunded. In meeting with Hampshire County Children's Services, it is also evident this is a great concern for providers across the County. There are insufficient funds available and we must lobby government to make sure they are in place if this initiative is to be successful. This is vital for both the children and the communities in which they are being settled.
Background
Hampshire County Council have agreed to support 167 Unaccompanied Asylum Seeking Children through three schemes:
National Transfer Scheme
To help ease the load on Kent County Council and other councils with a high proportion of children – they will be transferred to other counties with lower numbers.
Children at Risk Resettlement Scheme
The Government has committed to resettle up to 3,000 individuals from the Middle East and North Africa regions.
Dubs Amendment
The Lord's amendments to the Immigration Bill have committed the government to resettle a number of refugee children from refugee camps in Europe. This is known as the Dubs Amendment.
These programs are taking way too long – while the kids wait in hellish camps prey to traffickers, government debates. it has been frustratingly slow and although we want children here now, there is that major concern of adequate provision.
There are estimated 88,000 child refugees believed to be travelling through Europe. About 20,000 are unaccounted for; lost in the system, unidentified in camps, hostels or through trafficking.
Children in detention centres and refugee camps in Europe await transfer but Countries like the UK are back peddling on obligations. Five months ago, Dubs Amdendment passed with massive public support and yet one child has been settled through that initiative. Every night children are making the choice to risk their lives and escape to what they hope might be a better life.
The Unaccompanied Children's team was created to help raise awareness of the issue and rally support for the children in Hampshire. Thank you to Claire Kirby who has reached out to her community of carers, Dawn Green, our tireless Buddy and foster carer, Ann Stewart for all her efforts with the mailing list and posters and other team members for support.
We need help with our campaigns so please get in touch via RRN if you are interested in helping out.
Emily Mott
CITIZENS UK TRAINING  TENT SERVICE
On Sunday 20th August Katie Holmes talked to the congregation at the Annual South Harting Tented Service about RRN . Using the marquee erected for the village horticultural show the previous day, the two churches come together in a combined service 'under the canvas'. Each year the proceeds from the service go towards a local charity and this year we were fortunate that the RRN was chosen.
Katie asked the congregation to imagine what they would take with themselves if they were forced to flee their homes and run for the borders. She physically demonstrated what she would take by unpacking a rucksack full of her belongings. By doing so, she highlighted the desperation of the plight of refugees and therefore shared with the congregation her motivations for getting involved with the charity. The audience were really keen to hear about what we have achieved so far and what our plans were for the future. As a result we recieved over £1200 in donations.
Interfaith Team Update
The Church of the Latter Day Saints (Mormon Community) have invited Reverend Alice Wood to speak at their Southern Region Conference, in Staines on Saturday 5th November, about the work of the RRN which their members are keen to support.
A request for Foster parents and homes for Unaccompanied Minors was circulated on the pew sheets and information boards of all the churches in the Petersfield area.
Reverend Alice Wood