Report from the Chair
Many people I am speaking to are finding this second lockdown significantly harder than the first. I think with the shorter, darker days and the uncertainty around what the holiday season may look like is taking its toll. I would like to once again thank our incredible volunteers and partners for their continued efforts, and to remind everyone that reaching out for help when it's needed is a sign of strength. 
 
The news from America has given many of us some hope that, as the late incredible Ruth Bader Ginsberg said, when the pendulum swings too far one way it will inevitably swing back. I hope that with a Biden/Harris team in the White House we will start to see green shoots of hope for a better, kinder, and more tolerant future on both sides of the Atlantic.
 
In other good news the SVPRS will be re-starting soon, albeit initially by welcoming those families due to arrive during the first lockdown. Given this we will be refocussing our efforts on finding houses from our contacts and generous landlords – please do help us by spreading the word.
 
The findings of RRN's strategic review have now been released. Trustee Ian Bell who conducted the survey took volunteers through this at our first remote Open Meeting and it was well received with many volunteers actively wanting us to extend our support to asylum seekers in the area. More details on the review can be found below and a full copy of the findings can be requested by dropping a line to Nadia at operations@ruralrefugeenetwork.org. A big thank you to Ian for the many hours spent on this and to all of you who participated in the research.
 
As well as supporting our families remotely RRN has launched two Education and Works programmes since the start of the pandemic. The pilot was a great success and the second programme is now underway. Huge thanks to Hilary for her inspirational leadership of this programme which is making a real difference in helping new arrivals gain independence – a core aim of our charity.
 
A lot of people have been asking about the next 33 Art Show. Whilst we decided not to push forward with one in 2020 as planned, we remain fully committed to running this next year – not least because we want to continue to support our wonderful community of artists who have supported us so brilliantly for over 5 years. Watch this space for further updates and timings.
 
We acknowledge that staying in touch is a much greater challenge at the moment.  We are planning our next open meeting for January 18th but if in the meantime you have anything you'd like to talk to RRN about please do contact either Nadia or myself as we are always happy to talk to any of our volunteers and partners about any concerns or suggestions you may have – or indeed just for a catch-up chat.
 
With love and gratitude
 
Jules Newton on behalf of RRN Trustees
CEO's Report
Community Team Volunteers
RRN is providing ongoing support to families during the pandemic via our Community Team Volunteers. We have continued to support all the families virtually, keeping in touch and providing help as and when needed. The Community Team Volunteers continue to be a friendly and kind face to all our new arrivals. 
Education/Employment programme
The RRN successfully completed the 8 weeks 'Education/Employment' pilot by the end of July. We have already started a second programme in mid-October with three female learners. 
The RRN Community Team Volunteers continue to guide and support with one-to-one support provided by a dedicated member of the team who have an in-depth knowledge of their local area. They support participants with building confidence, self-esteem, and investigates how they could improve their independence. They also focus on investigating employment and work experience opportunities in the context of understanding the realities of the regional and local job markets. The project uses the willingness and talent of local volunteers to support learners into employment/work experience in the form of mentoring. They help to support the learners to understand different options and opportunities that may inform their short and long-term plans and aspirations regarding employment and investigate how to gain new skills and further training. The RRN works to support learners practically with interview practice, and provides advice to the RRN Community Team. They also interview candidates at the end of the programme.
Further in the newsletter are some interviews, conducted with the participants from the pilot scheme. 
Keeping RRN Engaged during Covid-19
RRN has continued to engage with stakeholders such as Chichester and Portsmouth City of Sanctuary, Citizen UK and Safe Passage. 
We are supporting the Citizen UK Campaign for an extension to Refugee Resettlement. You can find details here: 
https://actionnetwork.org/events/refugees-still-welcome-assembly
We also continue to support and promote the work of Safe Passage, many of the RRN volunteers have written to their MPs about Family Reunion and child refugees 
https://www.safepassage.org.uk/
The RRN and it's volunteers and supporters have also signed the Moira fire petition which was also posted on RRN's Facebook page 
https://helprefugees.org/news/moria-fire-petition/
Welcoming new volunteers
We are welcoming Milly Jonas, a recent graduate from Oxford University. Milly is in the process of achieving a TEFL (Teaching English as a Foreign Language) certificate. Milly knows her way around social media and has done fundraising for charities during school and university. She is also hoping to study International development. Milly is helping with the RRN Employment Programme and supporting me with operational work. She is putting together a PowerPoint 'training' on the difference between refugees granted status under government resettlement scheme and asylum seekers. 
We also welcome Katy Vetch onto our fundraising team. Katy is a photographic artist from South Harting who has organised and run several of her own solo shows and has been in many group shows in and around London. She is on the events committee for "The Fund For Global Human Rights" and conceived the fundraising show "Face to Face" currently running in the Kings Cross X Tunnel until the end of November. 
https://globalhumanrights.org/blogs/announcing-face-to-face-a-new-exhibition-of-social-documentary-and-portrait-photography/
Katy is also planning a photography show in collaboration with Syrian photographer Serbest Salih, who runs a community photographic workshop program for Syrian refugee children at the Sirkhane Darkroom on the Turkish/Syrian border.
https://www.heryerdesanat.org/darkroom
Nadia Potts
CEO
Strategic Review
Over the course of 2020, we have been conducting a strategic review of RRN. After five years in existence, it is good practice for any organisation, including charities, to take stock.
As part of this process, we have reviewed the broader migration environment we operate in, the core purpose of the charity itself, the scope of its operations and its own operational capabilities, and the impact it has made.
The work has mainly involved talking to the key stakeholders and asking them a consistent set of questions. One of our supporters, who has since become a trustee, Ian Bell, conducted around fifteen interviews and talked to a range of volunteers, staff and trustees, as well as key external stakeholders RRN work with – Hampshire County Council (HCC), The South East Strategic Partnership for Migration, and the British Red Cross. We were intending to talk directly to some of the Syrian families, but the constraints of lockdown meant we asked volunteers to share their own views on the families' experiences and perspectives. In early 2020 three families were interviewed about their views of integration and settlement – this was part of a project led by a volunteer student, Isabel Smythe, from University of Winchester.  The key learnings of the research were shared in the online RRN open meeting in September. The findings were extremely positive. The main headlines were that RRN has been a huge success, with its community volunteer model often cited as a key reason. There is a huge amount of pride among the volunteers in the work they do as well as deep appreciation from the families who have benefited; the housing, education, and employment elements of what we do are seen as the areas of greatest impact, and it is the view of regional and local external partners that RRN has become indispensable in the process of successfully resettling refugees.
We had a trustees online workshop in October to discuss the implications of the learnings with a view to setting an agreed strategy for the next stage of RRN's story before the end of the year. In many ways, we will be continuing our successful approach, while looking to further prioritise the key areas of employment and educational support. However, with the SVPRS programme suspended due to the pandemic, we need to agree other new areas where we can bring our capabilities to bear to the ever-changing migration needs across our region. So, to pick a few options under current consideration, we are also looking at how we can bring our specific expertise to assist HCC in some types of local asylum cases, if we should expand our geographical coverage to include Chichester, and how we can broaden and deepen our relationships with schools in the area. We will be communicating the decisions and actions in the future meetings and newsletters.
Finance Update 
While lockdown has curtailed fundraising efforts, there have not been huge demands on our resources as we have been unable to welcome new families. Thanks to Geoff's exemplary stewardship of the finances over the last five years, and the efforts of the fundraising volunteers, we have comfortable reserves which will allow us to continue to operate for some time while we wait for restrictions to ease. As well as this, we do have a number of regular donations that are helping to top up the balance sheet.
I'm happily filling in the role of treasurer for now but we are looking for someone to take this role on permanently so please do let us know if you know someone who might be able to help us on this front.
Anthony Thistleton-Smith
Fundraising Update   
Students from Bedales School are organising a virtual screening of the short film "Adnan" with and for our charity as part of their Global Awareness project-based learning curriculum. We are grateful for the support of the Bedales community as well as the generous "donation" of the rights to the film by directors Mark Arrigo and Steven Chatterton.
'Adnan' is the story of an imaginative ten-year-old Syrian refugee boy who has had to flee his home country with his mother after the rest of their family were killed and their neighbourhood destroyed. Now settled in the UK, he must use all his creativity to break through his mother's PTSD or risk losing her forever.
The filmmakers cast Syrian Ayham who had settled in Bristol with his family after leaving war-torn Aleppo when their neighbourhood was destroyed, killing so many of their friends and forcing them to flee. The filmmaker's intention was to create a role for a refugee child and to place him at the heart of the creative process and production.
The character of Adnan is an ordinary boy forced into an extraordinary situation, something true for many children across the planet. He is an archetype for the child who carries on regardless, with optimism and can-do spirit.
We look forward to sharing more about the film and its production as a run up to the screening. Date early next year to be announced in due course.
For more information: https://www.adnanshortfilm.com/
Emily Mott Duncannon
Education and Employment Programme 2
Hilary Wright – EFL Teacher
The second RRN Employment and Education Programme is now up and running. We are supporting three refugee ladies in Hampshire to develop the language, knowledge, and confidence they need to begin finding employment locally. The project aims to match the interests and experience of these learners to work experience possibilities and local employment opportunities. This project offers bespoke, flexible support for three sessions a week for eight weeks.
In developing this second project, the RRN recognised the need to build on the specialist expertise gained from the pilot. We have developed more links with new volunteers, Bedales School and local businesses that might be available to offer work experience. Given the current impact of Covid-19 and lockdown restrictions, employment and work experience may be more difficult to find. However, with the enthusiasm and hard work of the learners and dedication of those delivering the programme, the learners will have careers guidance, a CV, be confident and ready to gain some work experience and be able to navigate the local job market to apply for a job.
All three women have different interests, needs and abilities.
One of the learners wants to work in hairdressing and beauty and she has really enjoyed talking to and being supported by Rachael, a RRN volunteer, as they are the same age. She said, 'I want to be a hairdresser because I used to watch my Aunt in Syria and help her in her salon. I would like to go to college and get some qualifications. I think I have the skills that I need to become a hairdresser and Hilary is helping me to be more confident in new situations.' She started a work experience in a local hairdressing salon and is hoping this will continue once the lockdown finishes.
Another learner is very keen to work and is investigating opportunities locally that match her skillset and interests. She is thinking about working in the care sector or retail and sales. 'I have a desire to help people and I can work well with others.' As time of writing she has started a computer course for beginners at a local college.
And the third learner has found the pace of her college course challenging and has missed contact with English speakers during the lockdown. She is working on building the language skills she needs to begin to feel confident to communicate and integrate in her community. She previously enjoyed volunteering for the local community lunch club and is keen to find work experience in Liss. 'I understand Hilary and she helps me,' she said.
At the end of the programme, the participants should have a better idea of their next steps towards finding work or accessing training to pursue their interests.
RRN Works lead and Trustee Clare Masson spoke to the participants and below is some of their feedback in their own words:
Candidate 1: My name's Alaa. When I was invited to join the education and employment programme I felt excited and I was very happy. I would like to be a hairdresser in the future. I learned the names of salon equipment and how I write a CV. This will be useful because it will help me in searching for job. The learning is not very different about what I learn at college just this learning online and I learned many new things, I like the one to one sessions with Hilary because she is very good teacher, she has a long mind when she teaches me and she is kind and I understand her. I have made progress with this sort of teaching. I'm becoming more confident. I know more English and I understand that I have many good skills that will help me in the future.
Candidate 2: My name's Yasser. Nadia asked to me to join the programme because before I didn't write CV or interview for the job. And Nadia told me this programme was good for any people interested about finding the job. And that the teacher very good. Very friendly. And helps me learn new vocabulary about CV and Cover Letter. I am now more confident and RRN and helped me with food hygiene level 1 and level 2. In the future I will looking for job in kitchen, restaurant will be good and any job easy for me. Now every week I practice speaking and looking for any job.
Candidate 3: I was lucky enough to be selected to take part into the RRN education employment Programme. I felt very excited to have been given this opportunity as I love learning and developing my language skills. I already knew Hilary from English lessons before and knew that she was a good teacher and would make the learning really useful, challenging and fun! I also like the way she explains new ideas. I have been researching career possibilities, writing my CV asking for references and thinking about job opportunities locally.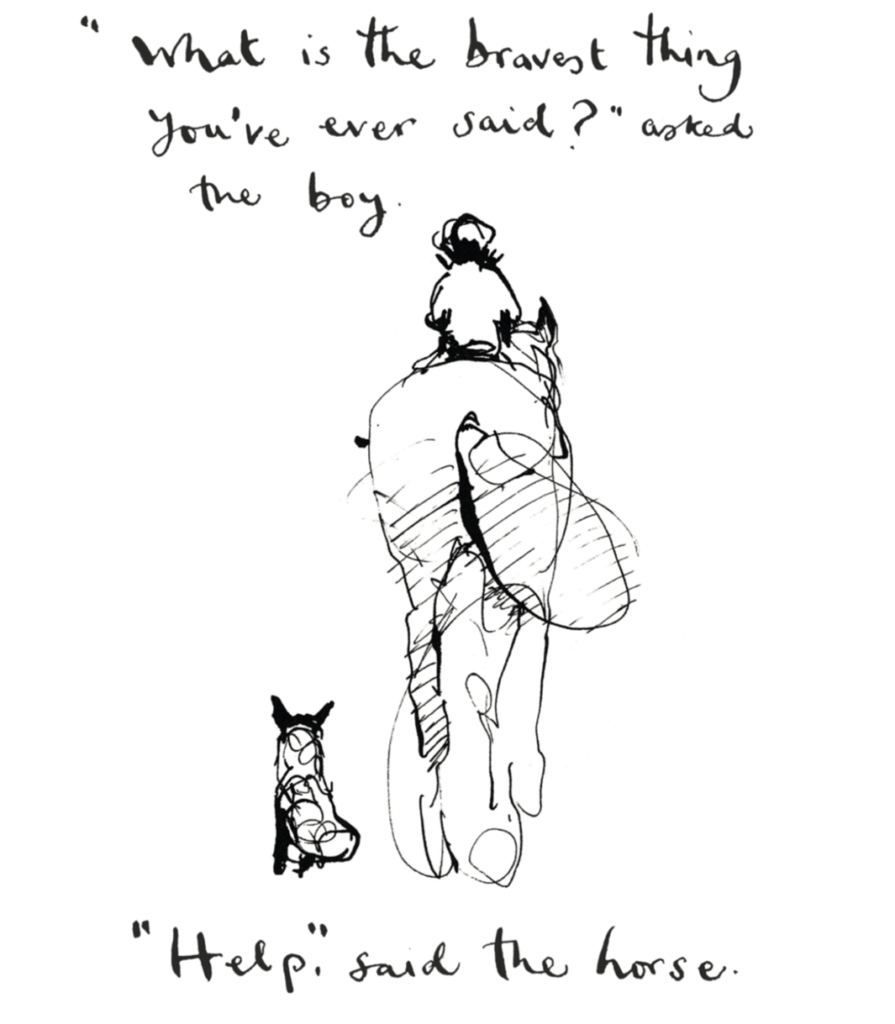 Used with the kind permission of Charlie Mackesy.