Report from the Chair
"Gratitude makes sense of our past, brings peace for today, and creates a vision for tomorrow." – Melody Beattie
I wanted to use this opportunity to say a little bit about gratitude.  Even during a global pandemic there is so much to be grateful for and as Trustees we are incredibly grateful for our wonderful RRN volunteers, many of whom have been with us for years and continue to give their time completely selflessly to help the families we support to settle and thrive in the UK.  Thank you to each and every one of you for all that you are doing even during more challenging times.
I'm also very grateful that we've had two incredibly important Trustees in Rosie and Geoff Lennon who for five years – pretty much since the charity's inception – have given so much of themselves over this time.  Rosie and Geoff are now leaving as Trustees to focus on new projects and I know I speak on behalf of everyone when I say a huge thank you for all that they have done for us.
Our partnership with Bedales continues to give us cause for gratitude.  The lockdown didn't stop them being creative and community-spirited and they set up a virtual walk from Syria to Steep raising well over £3K for RRN – thank you to all who took part.  Full details of how it went can be found below.
I'm also grateful to live in such glorious countryside and am happy that we've welcomed other families from war-torn countries so that they have been able to enjoy it too.  It's been incredibly frustrating to have the SVPRS suspended during this time, and it has meant that, despite incredible tolerance from our landlord, we have lost a house for a family that were due to be arriving in Spring.  We are hopeful of the resettlement scheme restarting in the not too distant future.
I do appreciate that some of you will have lost family members or friends to Covid-19 and know that feeling gratitude will be much harder for you at this time.  Please know that we are thinking of you and sending love.  If there is anything that I, or the RRN team, can do to help please let us know.
I'm pleased to report that all our new arrivals (some of them not so 'new' anymore) remain safe and well.
I hope many of you will be able to join us for our next Open Meeting on Monday September 21st.  As things currently stand this is likely to be held via Zoom and we will send out details nearer the time.
With love,
Jules
CEO's Report
Community Team Volunteers
Since our last newsletter the Community Team Volunteers have continued to support all the families virtually, keeping in touch, checking on them, and helping children with their learning. This has been an invaluable source of support for all the families, knowing that they can continue to stay in contact with support from our dedicated team of volunteers.
The 
RRN
 started an 'Education/Employment' pilot which will run for a period of 8 weeks from 8
th
 June. This pilot project is supporting three learners to further develop their English and in particular their employability levels and skills in order to assist finding a job. This pilot is led by Hilary Wright who has been involved with 
RRN
 since its onset. Hilary is a highly experienced  ESOL teacher and also liked greatly by all the families! Hilary developed an 8 week course which is supported by 
RRN
 Community Team volunteers and the 
RRN
 Work Team.
Please see more information in the section '
RRN
 Works' under 
RRN
 Employment Pilot Scheme.
The pilot is funded by the Eva Reckitt Trust and fundraised by 
RRN
 supporters. 
RRN

 Strategic Review
RRN
 is now in the final stages of our strategic review (which was delayed). It will be finalised and ready in September 2020. The key recommendations will be presented at our next Open Meeting (virtual) on the 21
st
 September 2020 – more information will follow on the format of this meeting.
Keeping 

RRN

 Engaged
RRN
 has continued to engage with stakeholders such as Portsmouth City of Sanctuary, Winchester City of Sanctuary, South East Strategic Migration Partnership and of course Hampshire County Council and Two Saints.
I would like to say a very special thank you to everyone at Bedales and in particular Rob Reynolds and Alistair McConville who despite COVID-19 still managed at short notice to organise the Walk to Syria which was such an uplifting event during this difficult time.
https://www.bedales.org.uk/news/bedales-syria-steep-lockdown-fundraiser
Please see our Fundraising section for more details. 
Goodbye to Rosie and Geoff Lennon
We are so sad to be saying goodbye to Rosie and Geoff as 
RRN
 Trustees from the end of this month.  Rosie and Geoff have both done so much for the charity and are quite literally irreplaceable. Rosie founded the Education Team and ran a team of volunteer teachers to go in weekly and teach refugees a new language, sharing learnings of how she did this nationally through our 
RRN
 Guide as well as leading the Housing Team and being our inaugural CEO. She helped us grow, creating the Open Meetings as forums for sharing with our volunteers and the Community Team concept. Both she and Geoff have been integral in helping to steer 
RRN
's strategic direction and good governance. Geoff has been our Treasurer and helped us gain charitable status as well as ensuring our finances are always in order and that we have sufficient funds to grow and continue to support the arrival of new families.  The Treasurer roll is often one of 'unsung hero' and Geoff definitely falls into this category.
Rosie and Geoff have been very clear that they remain supporters of the charity and we look forward to saying a proper and huge thank you in September.
Nadia Potts
CEO
Volunteer's Report from Stella Hames
I have been working with the 
RRN
 since it was set up in 2015. I have thoroughly enjoyed every aspect of my work with this organization. Above all I have felt very privileged to have met and got to know several of the Syrian families we have re-homed.
I worked with one of the first families to arrive in our area and have been able to help by initially teaching English and then with liaising between the family and the schools to which the children went. The whole family is delightful and I am so happy to have helped them to settle here, and I now enjoy watching the children grow and perform so well in their schools and colleges. I especially enjoy seeing the newest addition to the family who had just started at nursery before the lockdown.
I have also been fortunate enough to own some property which when vacant I was able to invite the 
RRN
 to use for two more families. This has enabled me to get to know more Syrian couples and I have enjoyed meeting them and accepting their ever open doors and offers of wonderful Syrian coffee. I am looking forward to this again after the dreadful COVID is a thing of the past.
If anyone has property to let, I can only stress that you could not wish for better tenants than these Syrian families as they keep everything immaculately clean. I would be happy to discuss this with anyone who was thinking of becoming a landlord.
In addition I have enjoyed working with the other 
RRN
 volunteers and made some good friends amongst this group. 
Stella Hames
Bedales raises over £7K for RRN and the John Badley Foundation 
Over 200 members of the Bedales and local community almost doubled their target to walk, run or cycle the distance from Idlib in Syria to Bedales in Steep in a week in aid of the Rural Refugee Network (RRN) and the John Badley Foundation (JBF). They reached the target of 4,066 kms by day five, clocking up over 7,000 kms by the end of the week and raised a total of £7,341 for vulnerable people.
72 pupils from the three Bedales Schools (Senior, Prep and Pre-prep) were joined by staff, parents, alumni, family and friends across the UK and also France, China and Kuwait. In addition to running, cycling and walking, the more intrepid travellers swam, kayaked, rowed, sailed, skateboarded, scootered, and one energetic five year old pupil even space-hopped! There were some impressive individual achievements and acts of endurance with one 19-year old alumni clocking a 100 km cycle, four people achieving 20 km runs, and another family, including Grandmother – contributing 450 kms from 27 different activities.
Here is a shot from Kaaren Walace's 86 year old Aunt Dorothy who contributed to the walk to Bedales from Syria. She walked each day to help cover some of the distance. By the end of the week she walked at least 15km!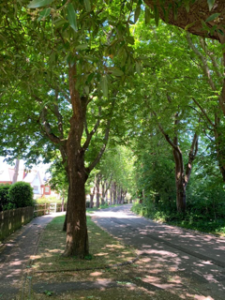 The plight of refugees attempting to reach UK shores has again been in the news. The RRN helps bring refugees to safety in the UK and supports them as they settle into their new communities in Hampshire. The JBF offers full bursaries to Bedales for children in challenging home or school situations. The RRN and JBF have a track record of working together to enable a transformational education for individuals fleeing civil war in Syria.

Participants in the fundraiser committed their exercise activities to the campaign, starting on Saturday 16 May, whilst keeping to Government guidance on exercise and the outdoors. The school gathered people's contributions and published a 'totaliser' on its website showing how far had been achieved of the 4,066 km journey from Idlib to Bedales.

Donations – with the first £500 matched – are being shared equally between the RRN and JBF.
RRN Employment Pilot Scheme  
RRN Works – Calling any prospective employers with apprenticeships or work experience opportunities.
RRN has set up a pilot scheme for 3 RRN refugees to develop their English and employability skills for use in finding a job. Three were chosen as they all have a positive attitude to learning, are motivated, and keen to find work. The aims of the pilot programme are to enable learners to overcome barriers which are preventing them from getting work, to learn new skills and knowledge in the job market and to be independently active and productive in looking for employment.
The 8 week programme is focused on teaching sessions relating to employment.  From writing the CV, which will hopefully help each individual distill in their own minds what exactly they can/want to do, and how they want to present themselves in the most effective way to the outside world. Support reading and understanding job descriptions and requirements, support with written letters of application, model letters requesting references, prepare for interviews with practice interview sessions. The sessions will cover general English and building confidence which is explicitly geared to the interests, aptitudes and desire to access a specific work field for each participant.
So if you know anyone or an organisation that would be supportive and interested in taking on a new employee or apprenticeships, or perhaps help with interview techniques all enquiries are welcome. Please contact RRN Works (
operations@ruralrefugeenetwork.org
) as we hope this programme will be the start for all our RRN family members who are keen to work and just need a step up. 
Clare Masson
Fundraising Update 
Planning ahead: Fundraising during Covid-19 
We had a small Zoom meeting to brainstorm ideas for raising awareness and funds for RRN. Plans are in the works for a virtual celebration of Serve Food For Syria (SFFS) in October so stay tuned for more information.
If you have experienced any exciting programming, workshops or have ideas about virtual fundraising, please share them with us…
East Hampshire Community Lottery benefits the RRN!
If you sign up to the East Hampshire Community lottery today for a minimum of £1 per week for at least 4 weeks (you can stop at any point after that) you have a one in 50 chance of winning, and 50p of every pound comes to RRN to support our work. Another 10p of your pound goes into a pot to support other good causes.
The draw takes place every month and as long as you let your contribution continue you have the chance of winning, and continue to help us help refugees in Hampshire. The prizes range from a £25,000 jackpot, with other smaller cash prizes, and a chance to win 12 months worth of weekly fruit & veg boxes to keep you healthy.
After 4 weeks you can simply stop! Or carry on, it is up to you. The link below will take you to the lottery:
https://www.easthantslottery.co.uk/support/rural-refugee-network
Emily Mott Duncannon and Kay Summerfield