RRN Chairs Update
It's been an interesting start to the New Year.  Several members of the RRN team chose to mark last Friday's inauguration by joining up with the Bridges Not Walls movement which saw people on five continents drop banners reading 'Bridges Not Walls' over 300 bridges as a show of solidarity against the rise of the far right both in the UK and around the world.
With the current Syrian peace deal 'largely holding' according to the United Nations there are reasons, on a more local level, to be positive in 2017.
Our Guide to Welcoming Syrian Refugees is about to be launched across the UK and we'll be distributing copies soon.  More on this below.
We're also pleased to announce the imminent arrival of a new family that the new Resettlement Team heads, Kirsty and Steve Thomas and their team are actively preparing for.
Housing is a big priority for 2017 and now has it's own RRN team – led by Rosalind Fairbairn Smith working with Katie Holmes.  Rosi and Katie are now actively seeking housing across Hampshire – particularly looking at Test Valley and Havant as well as seeking accommodation for smaller families within East Hants.  Please do keep talking and asking about the need for housing as lack of housing is the only current barrier to the rescue of additional families from the camps in and around Syria.
On the fundraising side Catherine Ferrier, Jane Eddlestone and Paola Kalisperas put on a wonderful concert in Winchester last weekend which raised £2,000 – it was a very special evening and we hugely appreciate their hard work.
We hope that everyone has now seen the poster for our second annual walk on February 5th – we hope to make this as successful as last year so please do join us if you're able.
With best wishes
Jules and Kaaren
Guide to Welcoming Syrian Refugees
When we founded RRN we had a vision to create a template that would help communities across the UK successfully resettle a greater number of refugees more quickly and with greater efficacy. We spoke last Summer at Amnesty International to other groups like ours from around the UK it was clear that, whilst there are several hundred groups of volunteers like ours around the country, a surprisingly small number had successfully resettled refugees.  We had started creating best practice templates at that stage and it was clear from the requests we received for them that there was a genuine need for this type of support.
To this end we've been working with Citizen's UK, The Entrepreneurial Refugee Network (TERN) and those groups that have already sourced accommodation and welcomed refugees on the development of a "Guide to Welcoming Syrian Refugees".  The published Guide references an online resource which includes a wealth of information and templates such as how to build teams, choosing a structure for your group, sourcing landlords, working with local authorities, fundraising and a host of other best practice practical information from around the UK.
We asked many of the organisations that have been supporting refugees and asylum seekers for years if they would contribute and support this work and the response was overwhelming.  The UNHCR, British Red Cross, Refugee Action, City of Sanctuary UK, the Refugee Council as well as the University of Winchester and Minister for Employment Damian Hinds MP have all contributed and lent support.  We're currently also talking with Amber Rudd's office who are requesting inclusion.
The Guide is now on it's final draft and is being launched by Citizen's UK and Migrants Organise with an event in London in late February/early March – details to follow.
Huge thanks go to Kathryn Bingham for her excellent editing support and to on-going supporters and artists Alex Rennie and Layla Andrews who have donated exceptional pieces of art for the front cover and the page on unaccompanied minors.
Advanced copies will be available soon.
Julia Thistleton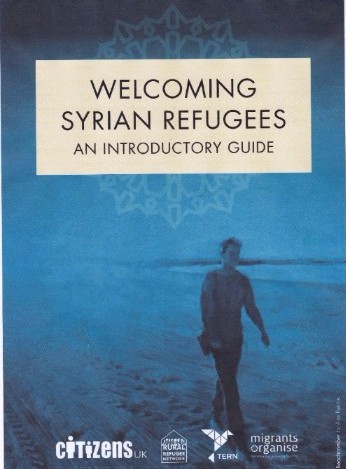 Unaccompanied Children's Initiative
There is a lot to do this year and it's exciting to be able to report progress at last.  It has taken quite a lot of time to understand how our group can best help support the unaccompanied minors.
We've decided to help in four areas: Recruitment, Theraputic training for Post Traumatic Stress Disorder, Activities and Ongoing Campaigning.  We are looking for volunteers to help in all these categories so please let me know if you'd like to help out:-
Recruitment of Foster Carers and supported lodgings hosts We will continue with two sessions in 2017. Volunteers needed to spread the word on social media, posters, and coordinate the meetings.
Therapeutic support training We are calling on social workers retired or practicing; therapists – psychological or movement, educators and carers.We seek to offer theraputic support for post traumatic stress disorder (PTSD) — through training therapists, social workers, educators, volunteers.RRN welcomes Felicity du Zulueta who has generously offered her time to help us set up workshops and training.Welcome also to Daphne Elsom  who has joined our team and has generously volunteered her time to help coordinate a training session with EPCAT. The ECPAT UK multi-agency training programme is designed to enable practitioners to reach a required standard of practice in safeguarding children who may have been trafficked. It reflects a range of learning styles to enable participants to embed good practice into their usual responses when supporting children who may have been trafficked.
Activities / collaboration with Winchester University The Unaccompanied Minors Initiative team will be collaborating with Winchester University to help establish a three day residential for Unaccompanied Minors with all sorts of exciting workshops in the arts, drama, dance and sport.Activity Days – We are looking for volunteers to coordinate fun days out for the children if anyone is interested, please contact RRN at hello@ruralrefugeenetwork.org. with ideas.
CampaigningWe continue our awareness building and advocacy of the unaccompanied children through actions and contact with local and central government regarding policy and support.
I look forward to working with all of you as we turn our thoughts into practical support and solutions. Please feel free to feedback to me.
Emily Mott
Fundraising Team Update
We are currently focusing on the Walk For Hope on Sunday 5th February, come along, bring your family and friends and let's make this event as successful as last year's!
Huge thanks to the Rogate Village Christmas Fair, who made the RRN one of its main beneficiaries and donated a fantastic £1,300 to us. Many thanks also to Petersfield Infant School for donating money raised from Harvest Festival and Christmas performances..
The brand document is now complete, thanks to Genevieve and Lucy. This is the reference document that we can all refer to which ensures we are all using the same facts and figures for grant applications, details for the press, literature etc. Next step will be to produce and update the brochure.
Plans are developing for the next annual 33 Art Sale. More details will follow next month but please save the date – Thursday 18th May at Bordean House.
                                                                Sarah Green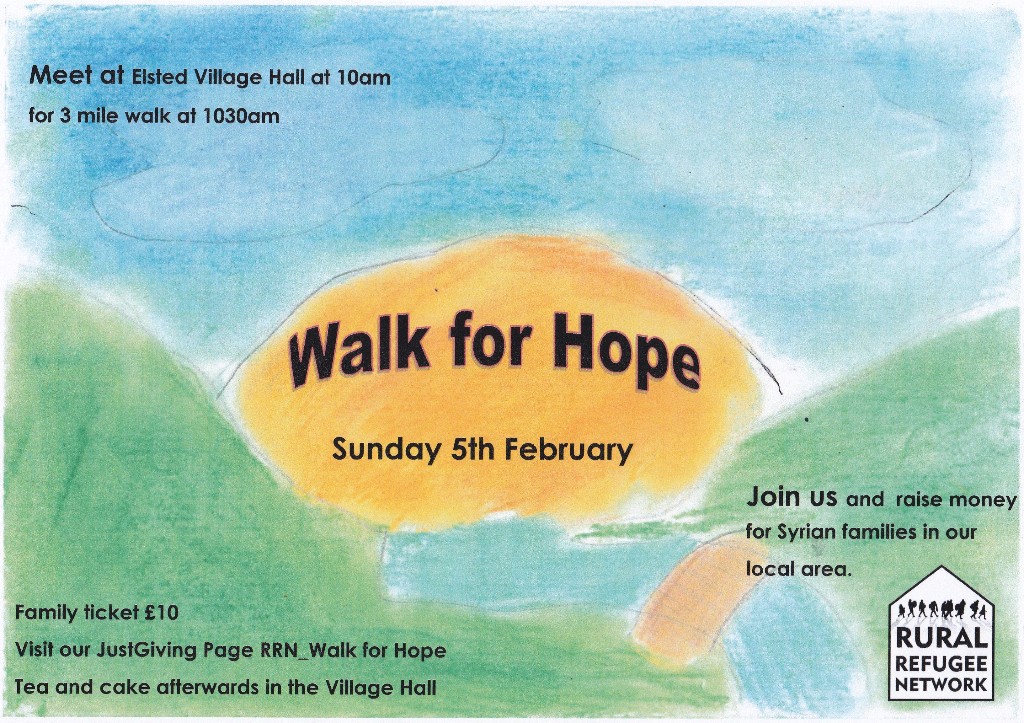 Resettlement Team Update
Clare Masson has done an incredible job leading the Resettlement Team over the past year.  She has calmly led the group through the enormous amount of work needed to manage rooms and rooms full of donations and the logistics behind bringing several houses on line and to turn them into family homes.  Clare has recently moved to London so is developing a new role within the charity – she will remain an RRN Trustee and will continue to be a hands on member of the team.
The last few months may not have not seen much activity on the Resettlement Team, but that is all set to change.  We have just started work on a new house in the area.  This is a fabulous property and will likely be able to house an extended family, perhaps three generations.  The house has been handed over in good decorative order and short of a little dab of paint and a new lawnmower wire, we can focus on making the house look homely and welcoming.
By the time you read this, we would have had our first team meeting for a while and will have spent a Saturday working in the new property.  With rumours of a few more houses in the pipeline we hope to have a busy, fun year!
The RRN 'Welcome Packs' put together by Keith Rose and profiled in a former newsletter have been recognised as a fantastic part of the work we do and will be offered as a template for other organisations around the UK as part of the RRN's national guide. Thanks so much to Keith for all his hard work in getting these up and and running.
Kirsty & Steve Thomas
Housing Team Update
The Housing Team was delighted to get the green light to start looking for properties again, and this has begun in earnest. The first task was to look for a new property for one of our current families who need to move out of their current accommodation.  With the help of local advertising, a village property has been offered and negotiations are underway with the landlord and the local District Council housing department.
An additional suitable property locally has come forward and is being speedily progressed with a view to resettling a family in the very near future.  We have also become aware of a possible property a little further afield, currently being followed up and another potential lead through a contact in a local authority.  Key target areas for the next few months, with local council backing, are Havant and the Test Valley.  All lettings agents, faith organisations and suitable charities in the search areas are being visited by RRN volunteers armed with information documents, leaflets and persuasive arguments in the hunt for altruistic landlords.
We are very hopeful that our target of resettling five families will be smashed this year!                                                            
Buddies Team Update
Since the arrival of our first three refugee families last year, the buddies team in the RRN have worked alongside the British Red Cross to welcome and befriend the families and help familiarise them with their local area and make links with their local communities.When the families had just arrived we would frequently visit them at home, liaising closely with the Red Cross who made contact with all the necessary Statutory Agencies (Home Office, Education, DWP, etc.) whilst we assisted with passing on donations of clothing, toys, appliances, bikes etc. and showed the families round their local area for example, accompanying them to local shops, parks, GPs surgeries etc. and helping them locate public transport and links to mosques and halal food shops further afield.  We facilitated meet-ups between the two local families who were most closely located and then started to take them on outings to local places of interest such as the coast, cycling in Alice Holt forest and a visit to a trampoline park.As the families have become more settled in their homes and school places have been established for the children we have helped them to locate and access further opportunities to make friends, grow their independence and develop their language skills. These have included help with sourcing and transporting to out of school football clubs, a roller disco for teenagers and in the case of two of the children from one family joining and regularly attending and thoroughly enjoying their local army cadets – including going on a residential camp!Our role as buddies, in line with the training we've received from the Red Cross, is very much focused on helping the families transition towards independence within their first year.  And of course the wider RRN network is hugely instrumental in this process. The Education team have been delivering English classes to the families and providing volunteers to help the families practice their English at home. And a special mention must be made of Claire Kirby and all the volunteers at Crossover Youth Centre who have done some fantastic work in organising and setting up crafts, play and sports sessions for the children in the school holidays as well as the weekly sewing sessions for the women in the families, who are particularly valuing this regular opportunity to build their confidence in English in a fun, familiar setting and learn a new skill all at the same time.
It is our privilege to work with these families and to be experiencing the RRN's core aims first-hand. We have seen our new arrivals settle into their houses and start to build lives for themselves and their children here in our local communities. At the same time we have been welcomed into their homes, been introduced to the delights of strong, sweet Cardamom coffee, and likewise shared some of the families' enjoyment of entirely new experiences here. None of this would be possible without all of your help and generosity. The families thank us frequently for our support and we want to take this opportunity to pass these thanks on to all of you who have made it possible.
Sarah Ali-Prosser
Education Team Update
As we look back at what was accomplished last year we start to realise just how much a difference the help we offer makes to refugees. Not a day goes by when you meet someone who relays a story of someone they know or something they have read about the plight of refugees and what communities are doing to help their situation.
Only recently refugees commented on how the future is better here than in their own country and that they are very appreciative of the way we treat people. They are so pleased their children are thriving, finally able to enjoy a normal peaceful childhood especially with the opportunities to go to school. Children are learning English, Maths, Psychology and Science at GCSE. Some hoping to become Doctors or Dentists. If we can help just one person in a refugee family to succeed in getting an education with life skills and hopefully work, we know this will have a huge impact on the whole family.
All of the families we have supported now have 6 hours a week ESOL classes. The sewing club is thriving and Amanda hopes to see other people join the session on Wednesdays who are in need of help with integrating into the local community. A great way to learn English through practical activities.
We have also managed to offer homework support and guidance to the children in the families – enabling them to have more confidence in their studies. Many thanks go to the teachers who have helped this happen.
The assembly pack is just about to be emailed to schools in Hampshire and with a concentrated effort on a number of schools we hope to  visit those schools to inform the children and staff why and how important it is to look after our refugee friends.
'Education is the key' as we all know so we will never tire of working hard to ensure we send out the message ' you are welcome and we really care about you'.
If anyone would like to get involved with the assemblies or with homework support please contact the Education Team at hello@ruralrefugeenetwork.org.
Many thanks.
Rosie Lennon
Cross-Team Meeting

The date for the next Cross-Team meeting is Monday 6th February. All members of RRN are always very welcome at any of these meetings (team leaders have all the dates for 2017).  Long serving volunteers, new ones and anyone considering helping in the future, please join us at Bordean House from 7-8.30pm.