Chairs Report
With the UK Government's SVPRS scheme wrapping up at the end of 2020, RRN Trustees have got two key things on their minds at the moment.  The first is housing.  We are guessing this isn't the first time you've heard us say this but we urgently need more houses as this is the last year we'll be settling refugees under this scheme as December 2019 will see the last arrivals.  
If you haven't already, please do help us find new potential landlords by talking about the work RRN is doing.  We're also holding an Open Meeting in Havant on May 22nd at  St Faith's Church (1 West Street, Havant PO9 1PR) from 6-8pm to find new volunteers and hopefully also landlords in the area, so please do invite anyone you know in the area to attend.  There are other ways you can help us find this housing – almost all our properties have been found by word of mouth through our volunteers and your action on this saves lives. Please see below for further details.
Secondly, we're starting to think about what RRN becomes as a charity after the end of the SVPRS.  Obviously, for a period of time after the last arrivals, we will still be supporting families in the same way as always through the provision of Community Teams, work support and financial support when needed. However, if the scheme is not replaced, there is a question over which direction the charity should then take.
Other than supporting Children on the Edge (COTE) our focus is on helping refugees from war-torn countries in the UK and very many of them arrive in other ways and still need help.  We're going to be discussing next steps at the end of the month and if any volunteers have any thoughts or ideas around this, please do email or fix a time to speak or meet with one of us.  We supported COTE after feedback from you that you'd like to do something to help those in the camps around Syria and your input is incredibly important to us.  If you have views we want to listen so please contact us on the regular email address hello@ruralrefugeenetwork.org.
The 33 Art Sale is fast approaching – it takes place on Thursday, June 13th at Bordean.  If you're not yet following us on Instagram or Facebook please do (33 Art Sale for all social media) – the more likes and shares we get the bigger the buzz and the more money raised.
The new families have been settling in well thanks to the amazing hard work of the Community Teams (and the unstoppable Nadia who keeps it all running).  A huge thank you to them and to all of you for your continued support.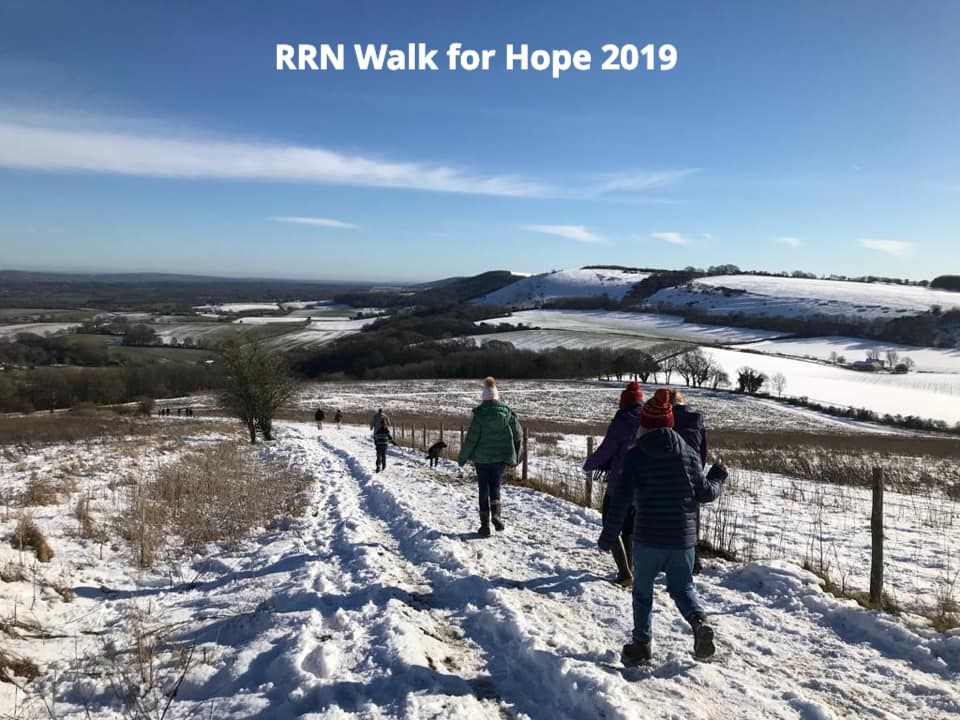 Since our last 
newsletter
, we have welcomed a new household to Havant and rehoused a couple from a flat that didn't prove to be as good as we had hoped. 

We are grateful to Southampton Football Club who have donated tickets to enable four lads to see their very first 
Premiership
 football match when Southampton take on Wolverhampton Wanderers. And I'll be raising awareness of Rural Refugees by taking part in the Isle of Wight cycling Ra
ndonnee on May 5. 

We are preparing a last push for another home or two before the funding runs out, so please keep distributing the RRN leaflets and posters, as I will be on the bike ride!
How you can help RRN find housing:
Ask any landlords/friends and family who have more than one property if they would be willing to rent a property to a refugee couple or family at the local authority housing rates – refer them to our website or introduce them to us personally for further details

Ask your school or church or any other group or local event if they would welcome a visit from an RRN speaker and/or one of our newly arrived refugees to give a short and inspiring talk in an assembly or meeting

Ask your local Parish, school or business magazine if they would consider including a short news article from RRN about the work we do (we can write this for you)

Ask to put up the attached PDF in your place of work, group/church or children's school

Join our Housing Team so that we can be more pro-active at this critical time – we especially need people with a marketing or housing background but everyone is welcome and useful – please reply to this email

Forward this email to friends and share the request on social media

Pledge to do at least one of the above today – you could be saving a life
Andy Crowe
 
Fundraising Team 
We're very excited about the third 33 Art Sale which will take place once again at Bordean House, Langrish, thanks again to Jules and Ant. It's on Thursday 13th June and will run from 6 to 9pm.
 
Emma Thistleton is sourcing and selecting artists, alongside two local artists, Helen Mason and Rachel Redfern. The result is the best and widest selection of artists we have ever managed to secure. There will be a selection of local, national and international artists of all different styles and using a wide variety of mediums. It really is going to be a very exciting sale so please do tell your friends (particularly those that love art and might buy!).
 
The artistic community is very supportive of our sale and the cause, where this year we will be splitting the money raised between the Rural Refugee Network and Children on the Edge. All the artists involved will donate 33% of the sale price to these charities.
 
Please put the date in the diary and do let me know if you would like leaflets (A5) and formal invitations and I will arrange delivery. You can contact me via sarahja.green@gmail.com
Sarah Green and the Fundraising Team

Upcoming dates for your diary:
This year's Family Fun Day at  Winchester University has been set for Saturday 22nd June.  This is a lovely day hosted by Winchester University for all the Syrian families settled in Hampshire.  We'll need a few volunteers and always grateful for your home-baked cakes so please get in touch with Emily  emily@emilymott.com if you'd like to help out.

Best wishes,
Emily Mott, Trustee, RRN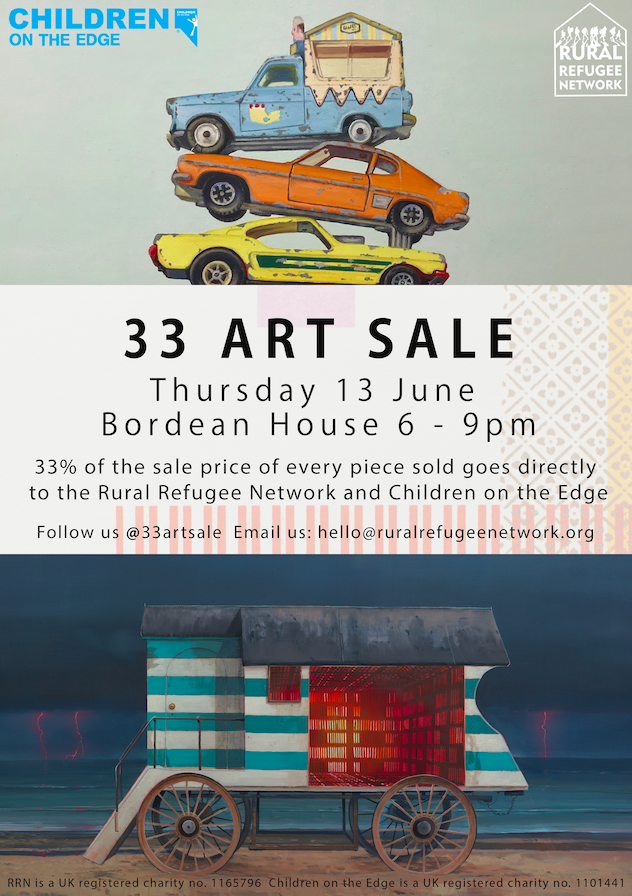 Resettlement Team 
After a busy end to last year with three new families arriving, the resettlement team has had a quiet few months.  As you will have read, this is the last year the Government will be accepting refugees under this current scheme.  We are hoping, planning and waiting for some more properties before time runs away from us…

If you would like to help by turning properties into homes, please get in touch!
resettlement@ruralrefugeenetwork.org

Steve & Kirsty Thomas
New Volunteers 
Helen Vyner our newly recruited volunteer Administrator. Helen has a wide range of experiences having worked for organisations including Citizens Advice Bureau and Home Start.  Helen also brings to RRN her much needed organisational and communication skills.  
Sue Halliday, has joined RRN to help with Marketing/PR.  Sue is a Professor of Marketing and brings a wide range of skills to RNN.
Jonny Cowell has joined us to help with our fundraising events.  Jonny is also raising money by giving up alcohol for an entire year! You can support Jonny by visiting https://www.justgiving.com/fundraising/jonny-cowell
An additional 4 volunteers have joined the community teams to help with getting to know people in your community, volunteering, maths, and English.
We can never say thank you enough to all our amazing and dedicated volunteers! 
Nadia Potts, Operations and Volunteers Manager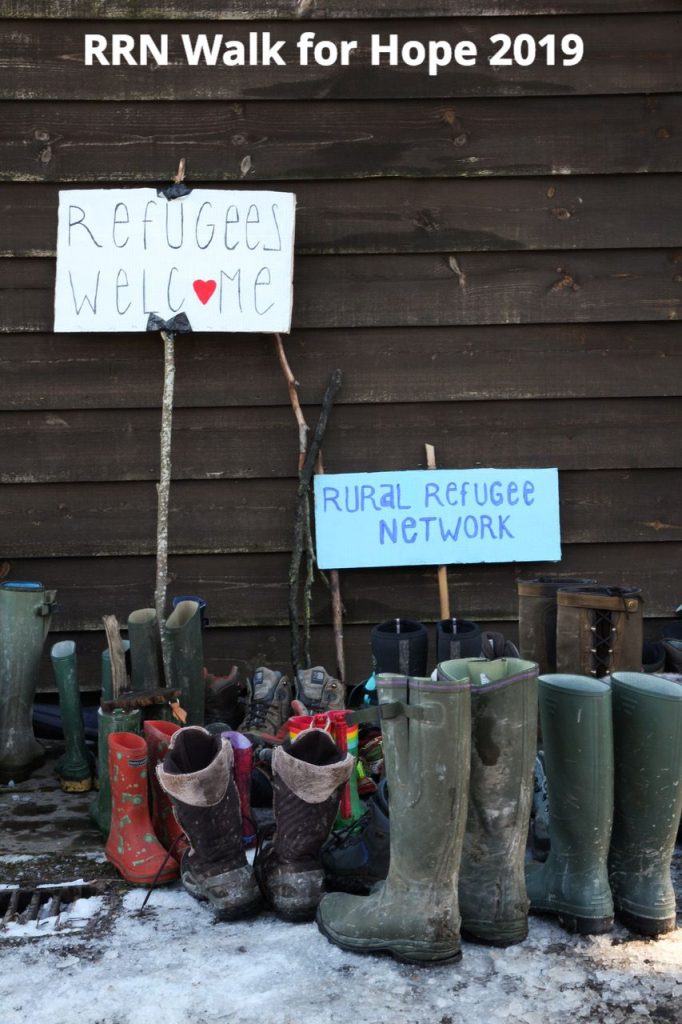 Community Teams
The three families who have arrived in the last 4 months and have been supported by RRN Community Teams of Volunteers have settled well and have been introduced to other Syrian families. 

The families are now all familiar with their local areas and are able to use public transport/shop/attend Mosque. The RRN Community Teams have been instrumental in helping the families with getting to know their areas and attending events organised by RRN. All the families have internet access and computer have/are being purchased.

Statutory provision by Two Saints under the Syrian Programme: All the families have started attending ESOL as part of a statutory provision, the children are in education, the family are registered with GPs and Dentists, bank accounts have been opened.

RRN Community Teams are also helping with English provision. The Community Team is now be helping the families with finding volunteering opportunities (and employment as and when appropriate). An English Chat Women Group has just started. Maths is being provided to support a young person in one of the families.

RRN/Two Saints/HCC have worked closely and the feedback from both Two Saint and HCC is that the families supported by RRN have settled well and quicker due to the support received by the RRN volunteers

Nadia Potts, Operations and Volunteers Manager
RRN Works
The LIST Project is going from strength to strength.  Part of what RRN does in its support of Syrian Families in Hampshire is the use of Language and Integration Skills Training (LIST). Our families take part in the programme which is designed specifically for the Syrian Vulnerable Persons Scheme in helping men, women and teenagers settle into their new neighbourhoods, find sustainable employment and take an active part in their communities.  This training programme is delivered by concept training who create personalised plans taking into consideration the individual's emotional and psychological needs.
The RRN has supplied a cooker for the commercial kitchen at LIST for those keen to get into cooking and take their Level 2 Food Hygiene Certificate. 
Also via RRN, funds have been made available for driving lessons of which the pass success rate so far has been very high. Enabling greater Work opportunities and furthering independence.
Thank you for your continued support!
If you would like to find out more about LIST please visit: 
http://www.concepttraining.co.uk/online/index.php/list-programme
Clare Masson & Rob Lamond
Further events
Dates for your diary
The next Open Meeting will be on Monday, May, 13 from 6.30pm to8pm in Petersfield at Winton House.

We will have two very interesting speakers:
Joel Gage who is Chair of Trustees for Aegean Solidarity Network Team UK. The charity was launched in 2015 to respond to the plight of individuals and families fleeing conflicts and arriving on the Greek Island of Leros. Joel will talk about her experience in the field, how the charity started and the current state of play in Greece

Carol Dale (who has been supporting families in Winchester) and Syrian ladies will talk about how they set up successfully SAHA the Syrian Catering enterprise. 
There will also be an RRN Open Meeting in Havant on May 22nd at St Faith's Church, 1 West Street, Havant PO9 1PR from 6 to 8pm.
The 33 Art Sale will take place on Thursday, June 13th.
The Alex Rennie London art show will take place on the 24th and 25th of September – please save the date – details to follow in the next newsletter.
Please RSVP to hello@ruralrefugeenetwork.org
Nadia Potts, Operations and Volunteers Manager